We are the White Winged Consciousness Of Nine and we are here to report. Your world now moves at a fast and furious pace towards awakening to the truth of Oneness. This Wholeness is forgotten to play ill-gotten games upon earth, the planet many now call home. And yet, these ill-gotten games are ending as they have served their purpose.
It is time for all to know the Oneness that exists within humanity. Each person met along the path of life is yet part of this Oneness. All are One; all humanity in unique form upon earth are yet also part of the one Creator. This BEingness is now calling forth for humanity to recognize its True Self. Pay attention to, as many would say, the irritations, the reactions, the seeming disruptions within the life one seems to live. Solitary existence is ending once again. Another cycle of humanity's living within unique form is ending. The cycle has come full circle for the last time within this last Golden Age. The return to Oneness will be met through the trials and errors of each unique figment upon your earth.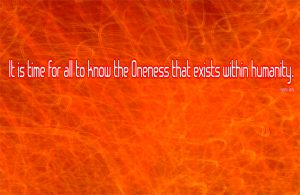 The chaos that erupts upon your earth is what you call proof of this return, for through chaos comes remembering. Each calamity, each chaotic event sparks a memory; a compassionate force moves and flows. This remembrance brings all back to the truth that each experience contributes to the return, the awakening of the long forgotten spark within each ones heart's core. The times of forgetting are over for humanity.
This Golden Age shall end in a glorious display of Oneness. Many upon the earth now will not be within the form they currently experience when this goal comes to fruition. And yet, all now play a role in achieving this glorious event within what you call humanity's game. The time for separation is over. The earth experiment has reaped many rewards and expanded the richness of each unique figment, soul, if you will. But the time for earth's experience for souls is ending with this last Golden Age.
We greet you now knowing the True Self is and always has been effective and within each one waiting for recognition. Now is the time.
Experiences of good often increase when we concentrate on inspirational thoughts. E-mail comments and questions at the Contact Page and visit SAM I AM Productions to support your Self as we collectively move through these chaotic times. Loving You!