"One will seem to experience separation as long as one seems to remain in a body. This state of awareness changes, to a certain degree, when one recognizes aspects of ones self in others. Separation is only in one's mind. Each mind, each body, has its own experience and lives within its own universe. Each body deals with only its own experience and lives within its own universe, dealing with only the aspects of its own self.
"Recall, all are One and know that as you move though this process, all truly belong and each seeming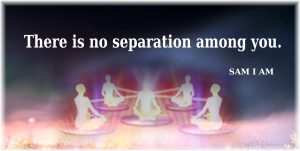 separate individual in your world is only an aspect of the small separate mind to be recognized and loved for what it is. Love all these aspects as your self no matter their shape, their form, their experience and accept them into your own consciousness. All aspects of your individual experience are only parts of your small mind of one to be recognized as who you are. Accept all these parts, all these aspects. As you do so, the turmoil and chaos within your own individual universe will lessen. Each aspect experiences lessons in the avenues of chaos and turmoil. The blessing of Oneness continues on a greater level for those holding that consciousness.
"We are the White Winged Consciousness of Nine and we are here to assist those aspects of the self wishing to return in all aspects of BEing in the Oneness of which you never left."
Support Where You Get Your Spiritual Truths and Consider Ascension Tools & Resources To Support Your Spiritual Growth.
Experiences of good often increase when we concentrate on inspirational thoughts. Find more channeled messages in "Book of One 🙂 Volume 1″ available through New Leaf Distributing at , Book of One 🙂 Volume 2 OR visit SAM I AM Productions to support your Self as we collectively move through these chaotic times. Loving You!