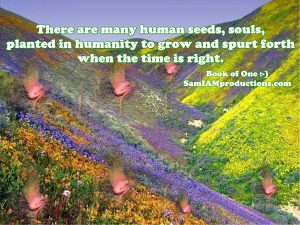 You are a human seed planted in the soil of humanity to blossom. You are not the only human seed on this earth. There are many human seeds, souls, planted in humanity to grow and spurt forth when the time is right. The time, my dear, is now. Know that as humanity moves through this leg, if you will, time of massive change; there are many upon your earth who are firmly planted within the grid of humanity to hold and carry the Light of One. It is through this process of spurting forth the Light of One that humanity shall also blossom and grow.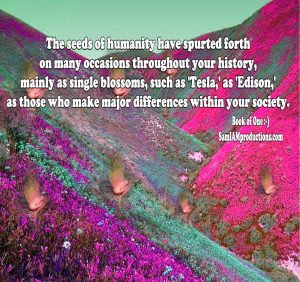 The seeds of humanity need no water to speak of, water being an outside source, and yet, it is, as you say, in human form water is a necessary part of the human process. But we speak of water in a different manner, as a way to note an outside force not needed, for each seed spurts forth on it's own volition, having as a soul chosen to be precisely where it is at the precise time to make a difference in humanity. The seeds of humanity have spurted forth on many occasions throughout your history, mainly as single blossoms, such as many refer to as 'Tesla,' as 'Edison,' as those who make major differences within your society. And yet, at this time there are many, many more seeds of humanity that have agreed, as souls, to be planted firmly within the consciousness, within the state of awareness of Oneness as a group. This group of seed souls, if you will, many not recognizing their role but soon to recognize this role in the days to come, now begins to spurt forth through the seed planted within the soil of humanity.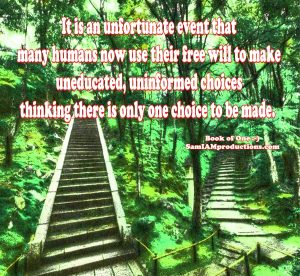 We of the Higher Realms watch closely knowing that no soul's plan shall be altered by any outside force without complicit consent of the human with the free will housing that soul. It is an unfortunate event that many humans now use their free will to make uneducated, uninformed choices thinking there is only one choice to be made. We wish to address those doing so at this time. Your human choice will now lead into a spiral of darkness that many will not be able to spiral out of in this lifetime. However there are a few within humanity who have used their free will choice being uninformed of the true state of possibilities that shall at one point within the spiral of darkness recognize the true state of possibilities before them. These humans shall also join those seeds of humanity now spreading forth at a much later time in humanity's progress.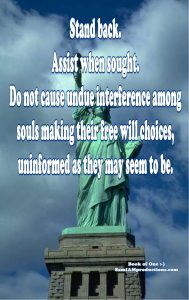 It is with caution that we ask those now tapping into the Source of Oneness to achieve this great feat within the soil of humanity to remain within steadfast in the mission before them, to act as role models, to assist when sought and to stand back and not cause undue interference amongst those souls making their free will choices uninformed as they may seem to be. For yet, as the channel knows, the states of awareness within humanity are vast and widespread and these states offer unique experiences that allow humanity to be the unique conglomeration of souls that it is. We your Sisters and Brothers of Higher Realms now leave this channel knowing it is in through course of time that all of humanity shall once again seek guidance only from their own Higher Self.
Comments, questions and suggestions welcome at the
Contact Page.
Support your Self, a loved one or a friend by purchasing an inspiring bedside companion.
Inspiring and meaningful, The Book of One : – ) Series holds channeled messages, the Author's Experiences of higher realms and moving between 3D and 5D, ascension tools, ascension symptoms, affirmations, and conscious living tips to move through daily life. Inspire yourself today with a perfect bedside companion. As of May 2021 the Book of One : – ) Series consists of 5 books:
Book of One : – ) Volume 4 Lightworker's Log helps humanity to deal with world events and body changes. It holds various
insights, extraordinary experiences, notes signs of body changes

for those choosing to evolve with Mother Earth and offers

affirmations and conscious living tips

. You'll relate to this book deeply if you are beginning to awaken, have felt a connection to the Oneness of life and All That Is, or are aware that you are here to spread the Light of One. You'll enjoy this book regardless of your state of awareness for it holds a wealth of information and ascension tools.
Book Of One : – ) Volume 5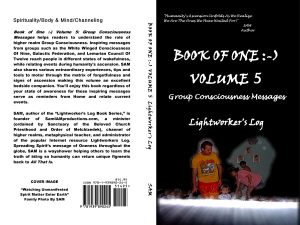 This volume,

Book of One : – ) Volume 5: Group Consciousness Messages

helps readers to understand the role of higher realm Group Consciousness in humanity's ascension. Inspiring messages from groups such as the White Winged Consciousness Of Nine, Lemurian Council Of Twelve and the Galactic Federation reach people in different states of wakefulness, while
relating earth and ethereal events during humanity's ascension

. SAM also shares

various extraordinary experiences

making this volume an excellent bedside companion. You'll enjoy this book regardless of your state of awareness for the messages within it serve as reminders from Home, relate current events, and hint at what's ahead for humanity. This volume holds an Index to make finding topics of interest much easier.
Find sales and free shipping by clicking on the Paypal Links or contacting the author directly at the Contact Page!