"We are the Lemurian Council of Twelve and we are here to report. You earth now spins out of control for many as these new energies settle more fully. All upon your earth now know the energies are quite different than before. As your full moon arrives this month of January 2019, it brings with it greater energies as well. Be prepared as these energies more fully coalesce upon your earth, for chaos may erupt in certain areas.
"Know that we are here to assist those ready and willing to help cement the energies of Oneness upon this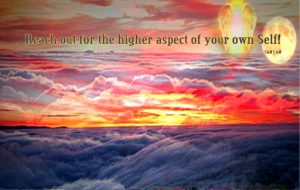 New Earth. The chaos arrives to help in this effort as all move quickly toward the chaos and separation or the Oneness and love. There are many upon your earth assisting in this effort. If you are one, know despite your unconscious knowing, you are always guided.
"There are those among you that know they are guided and tap into this source of wisdom regularly. Take the time to tap into this wisdom. Reach out for the higher aspect of your own Self and know it is what you came to earth to achieve in this lifetime – the merging of the higher self with the physical body to eventually, finally, rid your Self of the need, the desire, for separation."
Experiences of good often increase when we concentrate on inspirational thoughts. Comments, questions and suggestions welcome at the Contact Page. Support your Self by purchasing an inspiring bedside companion from the Book Of One 🙂 Lightworker's Log series! Visit SAM I AM Productions Books to support your Self and the author by purchasing books there and not through greedy corporations. Loving You!