Enjoy this Book Of One : – ) Volume 6 excerpt!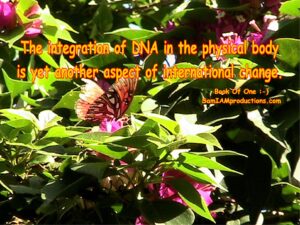 The integration of DNA in the physical body is yet another aspect of international change. We, the White-Winged Consciousness of Nine, now ask that all remain open to this adjustment as wave upon wave of solar, lunar, and planetary energy continues to assist humanity with this process. The changing of human DNA is necessary, as many now know, to remain upon planet earth as she too changes what can be referred to as her own DNA. As this process continues to unfold within all upon earth, scores and scores of people who are not ready to remain shall continue to leave the earth's atmosphere.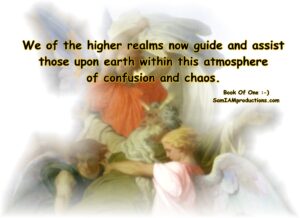 It is not, nor has it ever been, in the best interests of any higher realm frequency to manipulate DNA on any level, and yet, that is the attempt of lower frequencies within the earth's atmosphere. Asking all to participate within an atmosphere of chaos and hysteria changes the DNA in yet another aspect made possible through the stress produced upon those confused individuals within the earth of humanity. Confusion yet fuels the stress creating further change within the DNA of those experiencing dilemma after dilemma. …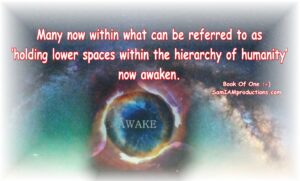 … throughout what may be referred to as the earth's America. The knowledge of those in the upper echelons of the American hierarchy shall continue attempts to hone their skills of manipulation. And yet, these attempts shall continue to fail… elite group of manipulation only to recognize that that manipulation is gross misuse and abuse of human powers.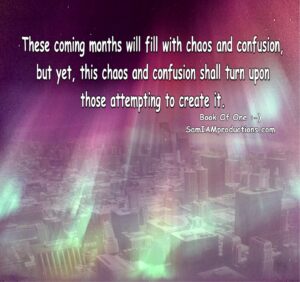 To all of humanity that now experience the chaos and confusion caused by the few remaining within the upper echelons of earth's hierarchy, the knowledge of gross misuse and abuse of power is becoming known, and disregarding the consequences of this misuse and abuse of power is now spreading throughout the hierarchy. These coming …
Allow those that have come to earth as souls to experience the gross misuse and abuse of power have their experience, while many within the realm of humanity step back to wait….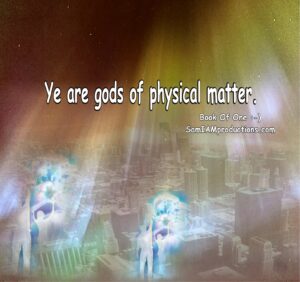 The chaos and confusion shall lead all of humanity closer to the truth that ye are gods of physical matter experiencing what may be referred to as a roller coaster ride of discovery and delight in final recognition of truth on all levels.
It is with the greatest respect that …
~~
Remember voids always fill. The process many of us are going through at this point in time is through sleep time, through dreams. We are revisiting, clearing, cleansing, and purging all memories of the past, to make room, to fill that void with the New Earth's moments of Now. So allow yourself the time to sleep as much as possible, to move through this process… This cannot be stressed enough as we continue to move on this Mother Ship Earth spiraling further and further upwards to greater and greater states of consciousness.
Full communication with Author's Notes in
Book Of One : – ) Volume 6!