Compassion, what is it? Compassion is feeling, a heart opening seemingly caused by the appearance of trials and tribulations experienced by another that may be a human being, an animal, or even a plant or tree. Compassion is that feeling one experiences upon seeing what appears as negative expressions/experiences detrimentally affecting situations, people and/or locations.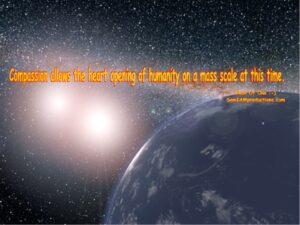 Compassion allows the heart opening of humanity on a mass scale at this time. And moving forward in evolution humanity now assists, quelling efforts of long ago to lay blame or further feed negative experience. Evolution now quickens in the hearts of many upon earth in the form of actions assisting those affected by negative circumstances. Assistance is varied and can be through prayer, meditation and visioning more positive circumstances, through physical assistance, giving, but it is never with the intention of furthering the disruption or negating positive loving energies (as in bogus fund-raising).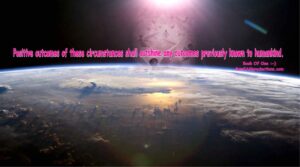 As humanity continues to move through the purging, cleansing, transmutation of negative energies by bringing them up to the surface to be recognized and cleared…
Know that as these days more forward in what many perceive as negative circumstances the positive outcomes of these circumstances shall …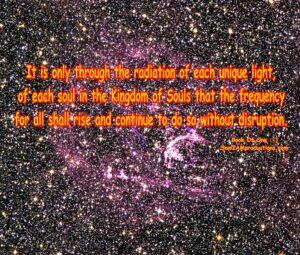 The key to spiraling up the spiral of evolution is knowing: each circumstance may be faced with a frequency much different than in the past.
Many of my experiences are documented throughout the "Lightworker's Log Book Series", especially in the "Author's Experiences" section of each Book Of One 🙂 volume. Consider boosting your vibrational rate with the Book of One 🙂 Series, which holds higher frequency communications, the Author's Experiences of moving between frequencies/dimensions of reality, ascension tools, light ascension symptoms, affirmations, and conscious living tips. As of Summer 2022 the Book of One : – ) Series consists of 6 volumes. So support your Self or a loved one by purchasing an inspiring bedside companion. The paypal account has been closed as a means of WALKING OUR TALK by not feeding aberrant energies that attempt to control by limiting access to funds. To purchase any of SAM's PRINTED books, contact the author or use associated links. In 2023, FREE shipping/handling WITHIN the U.S.A. Within the U.S.A, you can purchase any of SAM's PRINTED books through the author by sending the rounded off dollar cash amount of the book ($11.11 would be $11 while $14.95 would be $15), the book name, your email address for verification of order received, name and mailing address to SAM, P.O. Box 39385, Fort Lauderdale, FL 33339-9385.
There is much happening that cannot be explained, nor ignored, so continue to focus on the BIGGER picture! Stay hydrated with good quality SPRING water, if you can get it, rest as needed, and eat wholesome organic foods. Consider, and play your role with intention for the highest good of ALL.
Comments, questions and suggestions welcome at the Contact Page.