Intense energies continue to bombard those of us sensitive enough to feel them. A message comes after a long, restless night of repeatedly waking to recall experience after experience of different realities. I wake hearing, "The bottom line is" and know it is something to document.
"The bottom line is… nothing exists. Nothing exists in this universe or any other universe. Nothing exists in this reality or any other reality associated with time and space. Nothing is worth your fear, your worry, or your pain. Nothing is worth you giving up the True Self that you are. Nothing is worth allowing anyone or anything to change the unique aspects that you came to display as this earth game concludes.
"We are the White Winged Consciousness of Nine here to assist all humanity as the ethers mold more frequently to the Oneness of which It is"
This life filled with many opportunities to forget the True Self, in others and in myself. And it is only now, after seeming to lose two beautiful, pure children who did the same thing, to please others rather than themselves that I realize it is all about remembering who we truly are and why we are here.
We are here as spirit that took on a soul (which manifests different human vessels to experience different aspects of human life) to learn unconditional love for others and for ourselves. We are here to learn; we are unique aspects of the very thing many of us pray to. We are aspects of Consciousness, God, whatever you choose to name it, here to help others and ourselves awaken from the illusion of separation.
Yes, it is time to WAKE UP!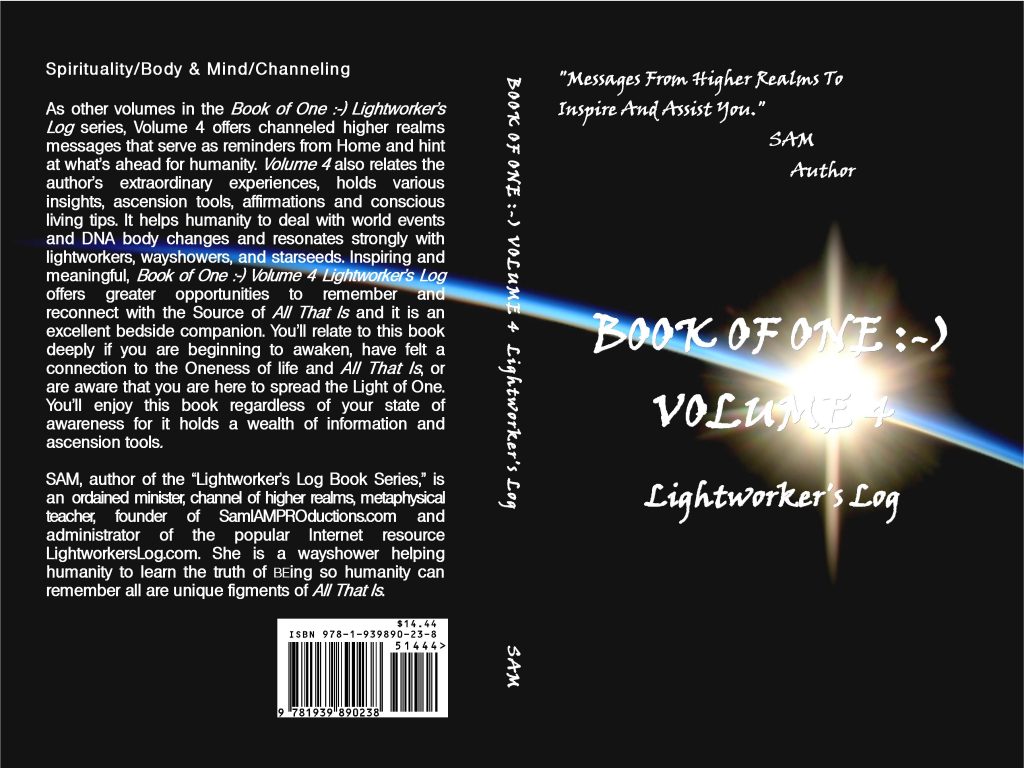 Experiences of good often increase when we concentrate on inspirational thoughts. E-mail comments and questions at the Contact Page and visit SAM I AM Productions to support your Self and the author as we collectively move  through these chaotic times. Books may also be purchased in the U.S. by sending the cash purchase cost listed in Paypal links directly to the author via the address listed at the contact page, listed under the About tab.
Loving You!