"You are clearing, transmuting, and cleansing parallel lives to become non-attached. If this is your wish to move into the long ago forgotten ethereal light form it is best to be non-attached to all that transpired upon taking on dense form. We the Lemurian Council Of Twelve know this is not an easy task for humanity. It is because of this that many humans, as souls, did not choose this transformation at this time.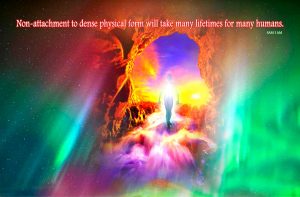 "The non-attachment to dense physical form will take many lifetimes for many humans. But for those few that have chosen to move through this process, in this life, we salute you, knowing it was not an easy soul choice. It is not an easy human choice. And yet, to leave these attachments behind serves the ethereal form by maintaining its purity and Oneness. For recall please, in ethereal form all are already connected, all are already, as you would note, attached. And yet, there is no attachment to singular, separate forms. For in the ethereal form, all are recognized as parts of one another, aspects of All That Is. All in this state of being are aware of their unique attributes adding to the Wholeness of the One Thing in which all reside. And yet, as ethereal beings it is known there is no separation among you.
"So now we return to those of you in human form and we ask, 'Is this necessary process yet another movement you as a human wish to make?' Consider your attachments if so. Consider your attachments and continue or begin to free them, to let them go. This does not mean you must step away from anyone in your life, nor in parallel lives. We ask only that you use your resonance and your discernment to attract like energies, for moving into this process will become most cumbersome if still attached to the drama of duality.
"We are the Lemurian Council Of Twelve and we bid you good day knowing your choices are alone yours to make."
Consider Ascension Tools & Resources To Support Your Spiritual Growth.
Experiences of good often increase when we concentrate on inspirational thoughts. Find more channeled messages in "Book of One 🙂 Volume 1″ available through New Leaf Distributing at , Book of One 🙂 Volume 2 OR visit SAM I AM Productions to support the author by purchasing books there and not through greedy corporations. Loving You!