Many dimensional realms are available for one to tap into at will. One needs only to have the desire to do so. As these higher energies continue to bombard earth, compliments of other planets including the sun and moon, more humans will become aware of the ability to tap into other aspects of their own thought forms.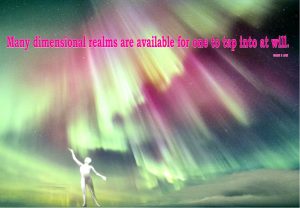 We the White Winged Consciousness of Nine are here to assist those that wish to move further from the matrix prison humanity devised as a learning tool, to recognize that All That Is is truly the only aspect to dwell within. Know that as each human progresses in their experience, they will tap into higher and higher aspects of their own illusion, their own thought forms, to dissipate them and continue in thought, form and deed to the Truth of Oneness once again.
We are here to assist as those are ready to ask.
Experiences of good often increase when we concentrate on inspirational thoughts. E-mail comments and questions at the Contact Page and visit SAM I AM Productions to support your Self as we collectively move through these chaotic times. Loving You!