"You are moving into another dimension of your time and space. We are the Lemurian Council of Twelve and we are here to assist you. The dizziness you feel is a difference between the frequencies in dimensions. The frequencies in magnetics of your earth are changing more rapidly than ever before. It is important that you continue to ground yourself using Mother Earth herself. You must do this daily. You must walk on your Mother Earth to more fully coalesce with the frequency in magnetics within her. This is your soul's charge. If you do not wish to follow this soul plan you do not need to do so but cementing these energies, more fully coalescing with the frequencies and magnetics of your Mother Earth, will assist you to do so.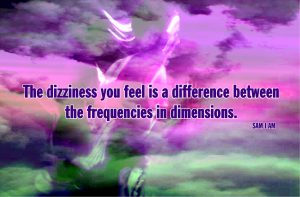 "We are with all those now ready to make this switch in frequency. As your earth frequency and magnetics continue to change, many shall experience what is commonly referred to as vertigo. To lessen the trauma of this experience it is necessary to perform this grounding daily. We are with you as you move though this process. We are the Lemurian Council of Twelve and we wish you to know you are never alone. This process is one that has been moved though in previous times upon your earth. This is the last coalescing of energies, of frequencies and magnetics your earth shall experience. This shall take an age as you define it of two-thousand years. This age has begun on your 12/21/2012. Although you may seem human, you are not. You are a soul using a human form to experience through the experience of time.
"We are with you now as you move through this process and you may call upon us to assist you at any time. We are the Lemurian Council of Twelve."
Experiences of good often increase when we concentrate on inspirational thoughts. Find more channeled messages in Book of One 🙂 Volume 2, "Book of One 🙂 Volume 1″ available through New Leaf Distributing, and Volumes 3-5; visit SAM I AM Productions to support the author by purchasing books there and not through greedy corporations. Loving You!