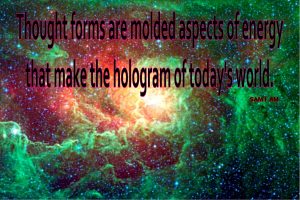 "Thought forms are molded aspects of energy that make the hologram of today's world. These forms of belief, if you will, continue to exist and they are fed by humanity's emotions and thoughts. All humanity contributes to the thought forms forming the matrix of earth belief, the belief in separation and duality. This duality was brought into being as a way to known Itself (for lack of a better term) to experience Itself by uncovering aspects hidden within. And that is what humanity does in today's world, uncovers aspects of its illusionary self to play the game of separation in a new way by uncovering those aspects of duality that need understanding, that need loving and unconditional acceptance, for all is part of Itself.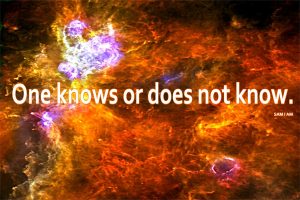 "As the world moves further into chaos, for those unaware of their True Self, those souls not yet aware of their illusionary nature lost in duality, we of the higher realms of the illusion ask those on earth with this true knowing to be steadfast in belief. One knows or does not know. There is no other choice. And for those that know it is best to use discernment and resonance on what to feed into the matrix of illusion.
"We leave you now with this truth: you are loved in all aspects beyond comprehension and soon shall return to the BEingness left behind so many illusionary eons ago."
For those curious and wanting to name this 'source' (aspect of consciousness) it can be known as Mahatma Koot` Hoomi.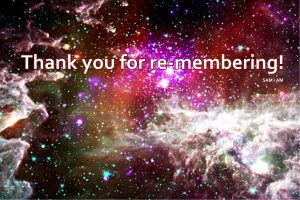 We shall remain in separation and duality as long as we believe in it, feeding it with emotion and thought. It is important to point out that each so-called human, aspect of consciousness, creates and lives within its own universe. A Course In Miracles notes illusions must be forgiven on the level where they are experienced. Page 13 tells us: "Whatever is true is eternal, and cannot change or be changed. Spirit is therefore unalterable because it is already perfect, but the mind can elect what it chooses to serve. The only limit put on its choice is that it cannot serve two masters."
Fortunately, there are many more aspects of consciousness than ever before in this matrix of illusion here to conclude the game during this Great Awakening. Thank you for re-membering!
Namaste
SAM I AM!
Support Where You Get Your Spiritual Truths and Consider Ascension Tools & Resources To Support Your Spiritual Growth.
Experiences of good often increase when we concentrate on inspirational thoughts. Find more channeled messages in "Book of One 🙂 Volume 1″ available through New Leaf Distributing at , Book of One 🙂 Volume 2 OR visit SAM I AM Productions to support your Self as we collectively move through these chaotic times. Loving You!