Raves For SAM I AM Productions!
Satisfied clients are the best marketing tools. Find more information about productions through this page of raves from repeat clients. Engage SAM I AM PROductions to compile raves for YOUR gifts and talents!
SAM, I AM PRODUCTIONS TESTIMONIAL
By Phillip Elton Collins, Former Director of Marketing for Lucas Films Industrial Light & Magic Commercials & Ridley Scott & Associates, (RSA, USA). Co-founder The Angel News Network and The Modern Day Mystery School.
Bringing our talents and gifts out into the world is one of the grandest expressions of self-empowerment and our reason to be here.
---
 "Activate Your Soul Plan"Author ~ Phillip Elton Collins.
---
 It gives me great pleasure to share that I was one of the first to inspire and assist Sharon Ann Meyer (SAM) in creating her production company while becoming one of her first clients under the mantle SAM I AM PRODUCTIONS.
From the get-go SAM jumped into an ambitious project which included complex and          sophisticated videos for The Angel News Network, my recently published six books and a precedent setting event at the Museum of Art, Ft. Lauderdale.
---
"Phrases Of Presence 4 ~ Happiness Handbook"Author ~ Phillip Elton Collins.
---
My background beyond metaphysics and spiritual teaching includes extension corporate communications experience at Young & Rubicam Advertising in New York City and partnering with some of the world's most talented film directors and producers.
With grace and ease, determination and a wonderful sense of humor SAM produced integrated copy concept creation, art research and selection, audio recording, state-of-art visual implementation, and video distribution. After SAM produces an effective video she also knows how to get it seen. In a world packed with videos, with a minimum of time with challenging budgets, she manages to create videos that quickly increase visibility and sales results. My book sales on Amazon and New Leaf tripled after we posted her videos and our social media numbers increased greatly.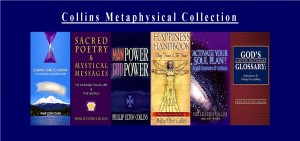 SAM knows that her mission, through her talents and gifts, includes bringing other's missions out into the world. You can feel this passion as she moves through the production process. She constantly stays in the solution not the problem; the sign of a knowing producer.
At the top of the film pyramid, I have been privileged to work with some of the most gifted film people within the industry. Please allow me to say, "Do yourself a favor, work with SAM."
---
 "Five Marketing Videos"Client ~ Lynn S. Bachrach.
---